New Models: Cherry Blossom
Posted at 00:00 on 24 Oct 2018 by Alex Reynolds
Tags: Cherry Blossom
One of the things that I spend a lot of time doing is finding new talent for us to work with. I put a lot of work into this, and I think it shows: in the past five years that I've been working on the site we've had a new-to-us model on the site every month and an average of five brand new performers who have never appeared in a spanking video elsewhere per year. We've been the first site to work with lots of fan favorite spanking models. Some examples in the past five years that I've been working on Northern include Harley Havik, Linny Lace, Dorothy Burnett, Ava Nicole, Apricot Pitts, Bambi Belle, and Lizzy McAllister, but there have been many more.

This month alone we've worked with two new-to-us models and two additional brand new, never been spanked on camera models!

It's an honor to us that so many new performers choose us as their first site to shoot with and we do whatever we can to make sure that they're comfortable and secure during their first (and every) shoot. It's important to us to help models ease into this and to see that it's a fun thing to do instead of finding it overwhelming.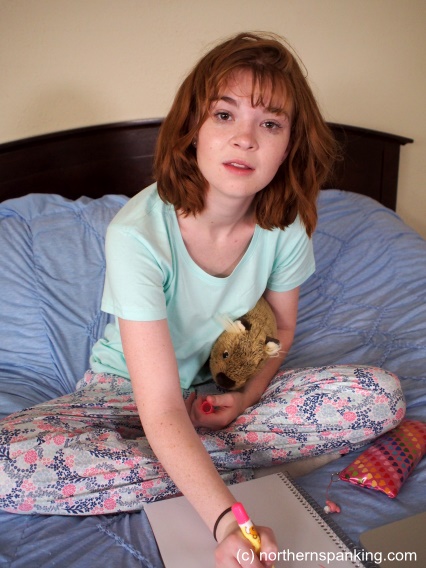 This week, we introduced you to a new model:
Cherry Blossom
. Cherry is one of the four new-to-us models that we shot this month, and we were absolutely taken by her. We liked her so much that we shot her twice this month and plan to have her back in the studio in November to film some
custom videos
.
It's no denying that Cherry is insanely cute. With her ginger hair and her big brown eyes, she gives off an air of innocence that can only be genuine. She has a charming smile and is developing a bratty streak. And, very relevant to what we do, she has a beautiful little bottom.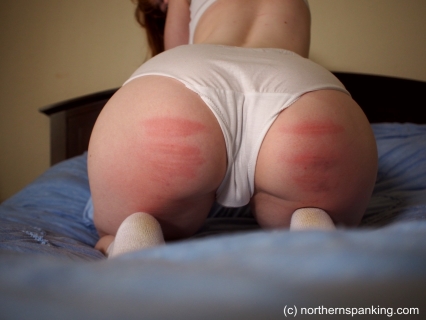 Another thing that makes Cherry a great model is that she's a kind and friendly person and a great communicator. These are huge priorities for us. Despite only being 20 years old, Cherry has her head screwed on straight and is highly professional.
We weren't the first site to shoot with this little cutie: you can also find her work on
Spanked Sweeties
and
My Spanking Roommate
. You can also visit her in person at
Sanctuary Studios LAX
if you happen to live in or be visiting Los Angeles.
Cherry is available for custom videos through us, as well! Check out www.customspankingvideos.com for information about that process and to see some past examples of our work. If you're already visiting Northern Spanking, you know that we are always striving to make the highest quality spanking films for you and that we work hard to have the highest production value in the industry. Directing your own fantasy can be less expensive than you might imagine!

We're so lucky to have so many sweet and wonderful girls living in our area and we love being able to be your one stop to see all the cutest new spanking performers. We know you'll love Cherry: look for a video from her coming very soon!