Latest Film: Apricot's Punishment
Posted at 00:00 on 19 Oct 2018 by Alex Reynolds
Tags: Lingerie, Stockings, Blonde, Crying Tears, Mouthsoaping, Severe, MF, Office, Workplace, Cane, Paddle, Wooden Paddle, Apricot Pitts, Paul Kennedy
Our new film this week stars one of our favorite people: Apricot Pitts. We were the first site that Apricot shot for, and we're lucky enough to get to shoot with her on a fairly regular basis.

This particular film was a custom video. It's a sort of sequel to a different video that we made for the same gentleman a little while ago called Harley's Punishment.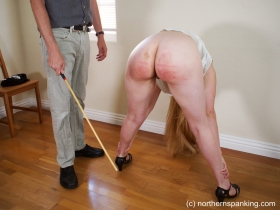 Like that film, this includes hard caning and paddling in positions that are less commonly seen in spanking videos. This one is a little different for a couple of reasons. First, while Harley's Punishment went straight to the discipline, Apricot's Punishment has a bit more background information. This scene is set in a corporate setting, and I loved the formality that came along with that. Apricot looked stunning in her business clothes, and we were thrilled that the gentleman who requested the custom decided on a pair of stockings for Apricot.
While in Harley's Punishment, there's an over the knee spanking before the caning starts, Apricot took her strokes cold. You can see the effect of the cold cane strokes in both the vibrant and immediately forming red lines and Apricot's strong reactions.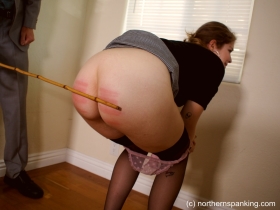 Apricot cried a lot during this video. She was clearly really in the headspace of the scene and was obviously feeling very vulnerable. By the end of the first portion of the video, Apricot's face was streaked with running makeup. But she wasn't done being punished yet.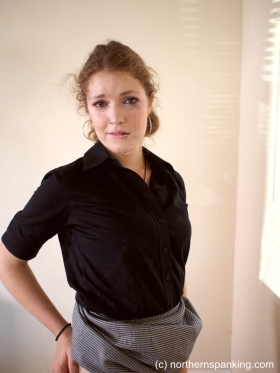 The second half of the video includes Apricot getting some hard swats with a heavy wooden paddle, which is something we don't do all that often compared to other implements. I felt a bit inspired after we did this scene and brought the same paddle out when we filmed with Lux Lives a couple days later, so stay tuned for more paddling in the future.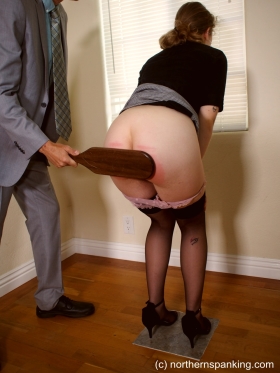 It also includes something that has never shown up on Northern Spanking before: mouthsoaping.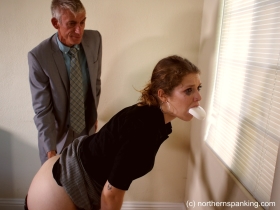 Mouthsoaping is something that I really find headspacey, personally, but it's not often the most practical thing to film. A mouthsoaping scene will inevitably ruin makeup, so it's something that needs to be done at the end of the day. But at the end of the day, performers (and those behind the camera, too!) tend to be tired and worn out. There's nothing more important to us than the well being of everyone who works with us, so there have been a few times where we've written a mouthsoaping scenario and then decided against shooting it because we just felt like it would be pushing someone too far. As a model, I've been on plenty of shoots where there kept being "one more thing" added on at the end of the day as I became increasingly exhausted, and I never wanted to be put someone else through that.
That said, when we arranged to do this video, I was pretty excited to get to see Apricot get her mouthsoaped. I find it to be a particularly childish and embarrassing punishment, and it's something that's very difficult to enjoy. So, it's pure punishment.
There will certainly be more mouthsoaping coming in the future (we have a few scenes that feature it filmed and saved for later). In this particular scene, it really worked. Apricot struggles to hold the soap in her mouth, trying to count around it while she gets hard swats on her already sore bottom. By the time her punishment is over, her face is a mess of real tears and soap.

Apricot was such a trooper about doing such a hard scene! Afterwards, we hung out for a while and had some snacks and took some time to just chill out, which was really nice. It's best when the people that you work with are also your friends! It allows for there to be trust to do things like this very intense scene.