Bratty Bambi Horsewhipped - Recent Film
Posted at 18:25 on 19 Oct 2018 by Alex Reynolds
Tags: Cotton Panties, Jodhpurs, Socks, White Panties, Blonde, MF, Riding Crop, Spanking OTK, Alex Reynolds, Bambi Belle
I didn't have a chance to blog about this scene when it was new since it was released right in the middle of the chaos of launching the new version of this site (which should now be working smoothly for everyone, by the way!)

But I love this scene and wanted to take a second to talk about it.

This scene features one of my favorite performers to work with: Bambi Belle. Bambi did her first shoot for a spanking site with us and has since then only filmed spanking videos for our company. I first became aware of Bambi when she posted to one of the spanking centric groups on Fetlife. (This was obviously a little while ago because I haven't had time to keep up with Fetlife beyond answering messages in a bit.) I looked at her profile and could tell right away that she was absolutely adorable and that, despite being quite young, she really had a strong sense of herself and what she wanted.
I discovered that she modeled and was very keen to work with her. She was living in San Francisco at the time, but we started to talk and to follow each other on twitter and when she came down to Los Angeles for Dom Con LA later in the year, we jumped on a chance to get together and shoot. We did an entirely F/F shoot that day, including some scenes with Dorothy Burnett. Bambi and Dorothy had perfect chemistry together, and I think all the scenes from that day are really excellent.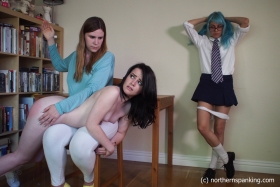 We hadn't had another chance to work with Bambi since then. She moved to the Pacific Northwest, which made it a bit more difficult for us to get together. But this summer, Paul and I took nearly two weeks off from work to go on a road trip together. We went up the California coast to the Redwoods, then we drove across Oregon, stopping to stay at an Airbnb house in Southern Washington. There, we were able to get together with Bambi and shoot again, and there we filmed this adorable scene. This was the only shooting we did on the entire trip, but it was definitely worth it to be able to get to work with Bambi again.

We shot ten scenes that day, which you will be seeing over time (including one for our sister site, Spanked and Diapered). This was the first M/F spanking video that Bambi ever did, as far as I know. We always work within the comfort levels of our performers, and the first time we shot with Bambi, she preferred to only be spanked by me (which I was happy to do!). But now that she has known Paul for a little while, she felt comfortable to go over his knee.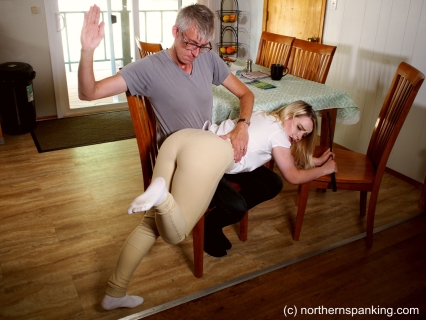 This scene plays into a couple of big kinks for me. First of all, Bambi is being very bratty and acting spoiled, and I personally love to see characters like that getting spanked. Bambi pulls this off particularly well, in my opinion. The second one is pretty obvious: jodhpurs. My interest in jodhpurs exists pretty exclusively because of spanking videos. I remember seeing this scene when I was in college (years before I actually joined the spanking community) and thinking "Oh, I like the look of those pants". (Morgan Taylor and Stephen Lewis in "Too Hot To Trot" - Stephen's very first film! - PAUL)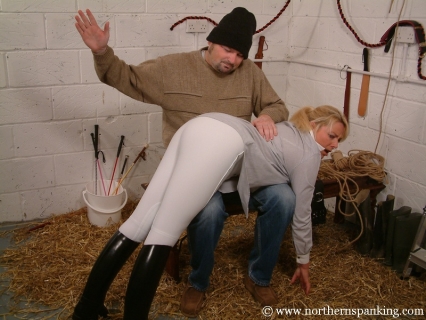 Since I've been a part of Northern Spanking we've done several scenes featuring these sexy, form-fitting riding pants, including one of my all-time favorites, For the Good of the Team.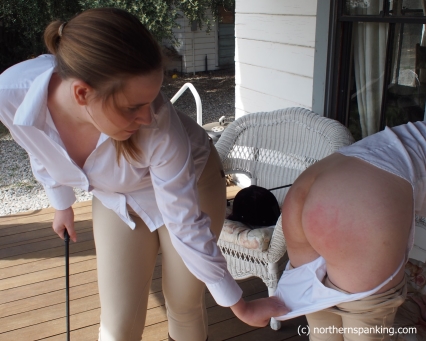 Bambi looked as gorgeous in jodhpurs as anyone I've ever seen. Her petite body and round bottom are to die for in these tight riding pants. And of course, watching her get spanked in (and out) of them is a real treat.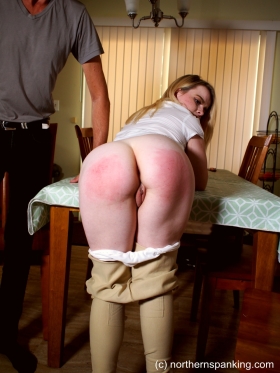 I hope you all love this scene as much as we enjoyed making it! Keep your eyes open for more scenes with Bambi coming soon, exclusively here!