Latest Film: Off Key
Posted at 03:01 on 7 Oct 2018 by Alex Reynolds
Tags: Cotton Panties, Glasses, School Uniform, Socks, White Panties, Blonde, Brunette, Real Life Couple, Redhead, Scolding, FF, MF, School, Cane, Spanking OTK, Adriana Evans, Ava Nicole, Cupcake SinClair, Harley Havik, Kelley May, Maddy Marks, Nuna Starks, Stephen Lewis
When Paul and I realized that the new design for Northern Spanking was almost completed, we talked about what would be the first film that we released once it went live. Although every site is different, we tend to shoot quite a bit in advance of what we release, so we often have films that are waiting for the right moment to be released, and this seemed like the perfect moment for something special.

Off Key was filmed a couple of years ago and saved for a time just like this. It features an absolutely incredible cast: Nuna Starks, Adriana Evans, Harley Havik, Maddy Marks, Cupcake SinClair, and Ava Nicole are all spankees in this video, with both Kelley May and Stephen Lewis dishing out the punishment.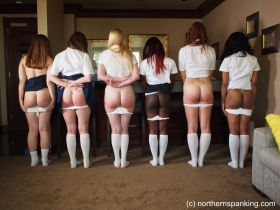 The film is described like this:
Miss Kelley May is a young choir director taking a group of students on an overnight trip to the other side of the state for them to perform. She's accompanied by Mr. Lewis: the choir director for their entire district. The girls were instructed to get some rest the night before the performance, with the two soloists, Maddy Marks and Cupcake SinClair, given a special room in hopes that they wouldn't be disturbed.

Unfortunately, Maddy is a bit of a ringleader among the other girls, and she strongarmed straight-laced Cupcake into throwing a party with a few of their friends. Adriana Evans, Nuna Starks, Ave Nicole, and Harley Havik showed up. Wine coolers were procured. Clothes were removed. Spin the bottle was played.

The girls weren't expecting to be caught in this state, but with all the noise they were making, maybe they should have been. Both Miss May and Mr. Lewis arrive at their room, and Mr. Lewis has a cane in his hand. After both their teacher and their director scold them about this behavior, Miss May announces that they need spankings to get them back under control.

And that's exactly what happens: Miss Kelley takes a seat on the sofa and pulls one girl across her lap and Mr. Lewis pulls out a straight-backed chair in order to put another one in the same position and each girl is soundly spanked, first on their tight-fitting white panties and then on their bare bottoms.

But one spanking is not enough: after being spanked by one of their authority figures, each girl is sent to wait in line for punishment from the other. Two hard spankings leave the girls rubbing and wiggling, and looking very contrite indeed.

But Cupcake and Maddy were truly responsible for this whole debacle, and Mr. Lewis feels that the two of them should know better than to have behaved the way they did. So, with all eyes on them, Cupcake is made to bend over for a caning. Maddy is next, and receives even more strokes since she was the one who started the whole thing.

Then, it's off to bed for all of the girls. Hopefully, a lesson was learned and there won't be any further problems from these sorry schoolgirls!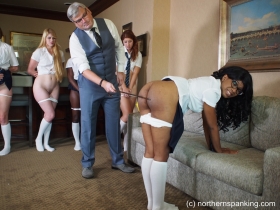 Paul and I had fun coming up with a scenario that made sense since we were filming in a hotel. It's a personal pet peeve of mine when videos are filmed in an hotel and we're supposed to suspend disbelief and think that it's a principal's office, a gymnasium, or even a domestic house. Hotel rooms, especially big hotel suites like this one, just look like hotel rooms and there isn't any way around that. We came up with a story about schoolgirls on a trip for a choir performance. The image that came to mind for me when I thought of a bunch of schoolgirls left unsupervised overnight involved them giggling in various states of undress, and we were able to bring that to life quite exactly!

The time that the six girls spend interacting before being interrupted by their irate teacher and the choir director for the entire district is delicious to watch. The scene unfolds with excellent scolding from both Kelley and Stephen. There's a lot to watch in the scene: There are two spankings going on at a time, plus the nervous fidgeting of the girls as they await their turns, holding their skirts up to display their spanked bottoms. It culminates, of course, with Cupcake and Maddy both being expertly caned by Mr. Lewis while the rest of the girls look on-- how embarrassing for those two.

Everyone involved in the scene really gave their best performances and the energy in it never quits. My dream really came to life with this one.

Another thing which I think is special about this video is that all eight of the people who appear in it are good friends of ours, and there are plenty of pairs within the group who have special relationships with each other. Adriana and Ava, for example, have been very close friends for years and years. Kelley and Maddy play off camera both regularly and intensely. And while it wasn't a significant relationship at the time, Kelley and Stephen are now dating. Looking back on their interactions before that happened brings a smile to my face.