Shadowlane 2019 Part Two
Posted at 00:00 on 11 Sep 2019 by Paul Kennedy
Tags: Alex Reynolds, Jess Howl, Lilly Calloway, Lola Belle
Alex and I have just returned from the Shadowlane Labor Day spanking party in Las Vegas, an event we attend every year and immensely enjoy. My first attendance at this event was around 12 years ago in fact and we, along with every attendee, were always given a warm welcome by Tony Elka and Eve Howard, and they became good friends. After 28 glorious and successful years as party hosts, this event was Tony and Eve's last as party organisers and we wish them well in everything they do in the future. The whole spanking community owes a debt of thanks to them for providing a fun, safe event for us all to come together to celebrate what we enjoy and, more importantly, who we really are as people. Thank you both, so much!
We are pleased that the Shadowlane Labor Day party will continue in the capable hands of of well-known spanking party host, organiser and bon vivant Dr Lectr (Joe). Alex and I will be there to support him and the event next Labor Day weekend.
We of course spent some time making films, mostly for Northern Spanking but also our general fetish site KITCHENSINKSPANKING.COM and our new diaper spanking/ageplay site SPANKEDANDDIAPERED.COM Here are a few sample images and behind-the-scenes photos, previewing forthcoming films starring Lilly Calloway, Lola Belle and Jess Howl.
These are from a forthcoming film on KITCHENSINKSPANKING.COM and features Lola Belle getting humped by Alex Reynolds!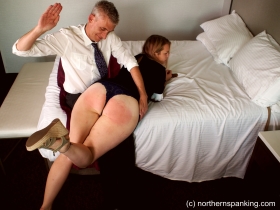 More of Lilly Calloway for Northern Spanking. In this film Lilly is masquerading as minor European royalty to obtain a line of credit in a casino. The house detective has discovered Lilly is actually a penniless waitress from Baltimore and sets about extracting payment from her in his own particular fashion. This one was huge fun to film!
Completing this preview, images from a more traditional schoolgirl story with Lilly on the receiving end where I get to smack her lovely bottom, and one for our new diaper spanking/ageplay site SPANKEDANDDIAPERED.COM. This film is out now and you can preview it HERE.
I hope you enjoyed this little insight into our filming activities, I will try to continue this with forthcoming shoots. Our next major exploit will be in Chicago at the end of October so, as they say, more to follow!