Photos - How To Punish A Naughty Girl 2/2
Added 8 Jun 2011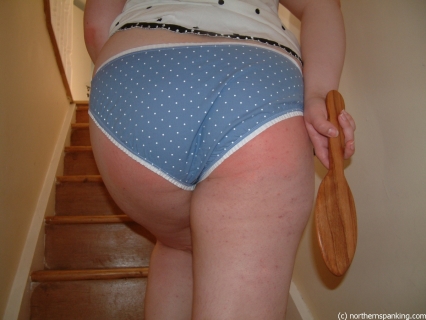 Young Rosie has been a very naughty girl indeed and here we see exactly how she is punished. First she must put on her nightie as she will be sent to bed once this has been completed. She shivers when Mr de Wolfe puts her across his lap and raises the hem of her nightie, exposing her little blue cotton knickers.
Small sobs escape her lips as he smacks her bottom hard and we see the delighful redness of the spanking escaping her knickers as they ride up into her bottom.
Presently he takes down her knickers and her soft, full buttocks are exposed to our gaze. She knows we are watching now, appreciating her beautiful body and enjoying witnessing her being punished. Her shame is almost complete when Mr de Wolfe points out the wooden paddle and sends her to her room. The smacking was just a preliminary, the shiny paddle hurts a great deal more and, when Rosie has been naughty enough to deserve it, she knows she must undress completely to receive it.
Following Rosie on her slow journey up the stairs affords us a wonderful view of her smacked buttocks and our anticipation of what is to come is only heightened by her acute embarrasment that we will witness it.
Undressing, Rosie tries vainly to protect her modesty but we have licence to view every action as she takes off her nightdress and positions herself over the end of her bed, the drum-tight cotton knickers clinging to her throbbing bottom like a soft second skin. We see the pleading in her eyes as she is told to pull her knickers down to her ankles. She is not pleading with us to intervene; she is pleading with us not to watch. But how could we not? She is so sexy and she is being punished. It would be a crime not to savour every second of her humiliation and imprint it upon our minds.
By watching her punishment we are become part of it, almost as if it were we who had our hands on that soft, hot bottom. Mr de Wolfe knows this well, which is why he has Rosie thank us for our attendance before she is sent to bed, no doubt to sleep on her tummy this night!