Photos - Close Friends 2/2
Added 21 Feb 2011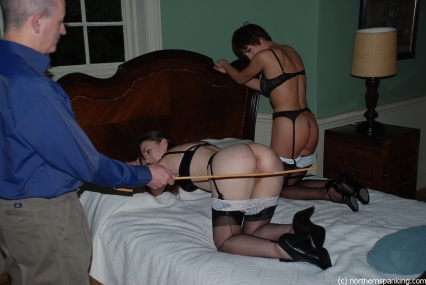 Lifelong friends Niki and Pandora are enjoying a genteel afternoon tea together on a stormy afternoon, when Nikis husband arrives home with a face like thunder. His Saturday has been ruined due to Niki forgetting to renew his golf club membership. Imagine the embarrassment of being barred from the first tee at the Royal & Ancient.
Horror-struck, Niki is fully aware of what is about to happen; she will be taken to the bedroom, undressed and punished most severely.
Once the chastisement is well underway, Pandora cannot resist creeping up the stairs to listen more closely to her friend having her bottom smacked, just like when they were naughty little girls. The sounds have a powerful effect on Pandora, awakening long-forgotten desires of the dormitory and her fingers wander inevitably to her knickers, then inside.
It's when Pandora herself is drawn as if by electricity to enter the bedroom, to actually see Niki's bottom bouncing and wriggling, spanked red from the crown of her pert buttocks to the tops of her black stockings. There is a caning to come and, caught, Pandora is told to fetch the implement and witness her friend being stripped and thrashed.
It's not long before Pandora herself is undressed to her pretty underwear, presenting her lovely bottom alongside that of her friend, to be adorned with stinging stripes. And afterward of course, Niki and Pandora discover the new level to their friendship that only humiliation, suffering and very sore bottoms can bring about.