Photos - Because We Can 1/2
Added 24 Feb 2011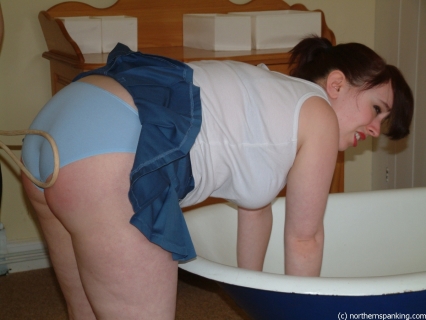 Nimue finds herself in a nameless institution for infringement of some very important law of the land. The emphasis of this place is very much on retributio rather than rehabilitation. First there is the uniform; embarassingly revealing, showing her little cotton knickers however she might try to avoid it.
And then she meets Miss Hunter and Mr Black. Mr Black is a new tutor/guard and has to be taught the most important skill he will need: how to thoroughly cane a naughty bottom. There is no better teacher than Miss Hunter as she proceeds to demonstrate on poor Nimue.
There is more to come however as, after the official beating and the lesson for Mr Black, Miss Hunter decides she needs some time alone with Nimue, in which to abjectly humiliate the girl and make her tender, welted bottom about ten times as sore.