Photos - Repentance 2/2
Added 14 Jul 2010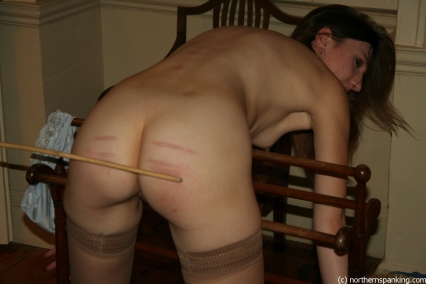 She is awfully, terribly sorry and he knows it. He knows it when he finds her sitting nervously in the bedroom they do not share but in which she is punished. She is punished often but this time she has really let him down badly. This is why she has prepared herself so well, a pretty dress, silky panties that he will adore and the required stockings of course.
Also required is the cane. It sits beside her on the bed where she has placed it. Soon it will be thrashing her and she will deserve and relish the bite of every single stroke he gives her. She will probably beg for more through her anguished sobbing, she usually does.
Stripped to and then of her underwear, the preliminaries commence. He smacks her bottom. He smacks her bottom hard and humiliates her. She becomes wet, as she always does, self-control seemingly her issue in many things.
And then the caning, for which she must wait. The cruel rattan cuts into her tender, smacked bottom and she tries, oh how she tries not to cry out. Such a humiliating, exposed position to receive her stripes in. He can see she is wet and she adores that he can. She cannot wait for this to be over but she also wants the fire in her bottom, between her legs to gain so much extra heat.
The beating takes some time but the results will last for such a long time, long after the marks are gone and the sensation of the rough bedsheets on her welted bottom is but a delicious, erotic memory, this evening will live in her dreams.