Photos - Enter The Library
Added 9 Oct 2009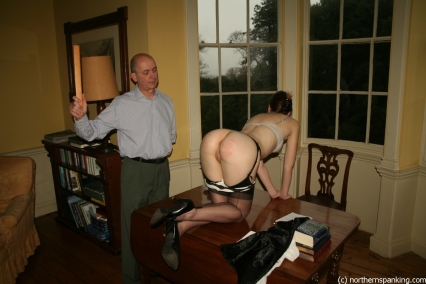 In the quiet of a wet winter afternoon, Michael calls his PA to see him in the library. She adores the dusty smell of the books and the faint, lingering aroma of cigar smoke from many years ago. Inexplicably it arouses her, reminds her of earlier times, times long ago she is too young to have experienced, except in some of the dusty books.
Pandora longs for these rare occasions, when they are alone, when Michael takes extreme advantage of his sexy PA and she lets him, encourages him with her silence and acquiescence. Today it is to be the ruler, the one she found in an antique shop and planted in his desk drawer. Slowly she is made to undress, her expensive underwear serving its purpose as Michael applies the wooden ruler to her tender bottom with vigour.
Upon Michaels desk, her most intimate secrets revealed to his searching gaze, Pandora's afternoon reaches its climax under the kiss of the ancient polished wood, applied expertly to her creamy buttocks. Now she will do anything for Michael, anything, including taking notes for the agenda of his next meeting!