Photos - Introducing Anna Gordon
Added 7 Jan 2008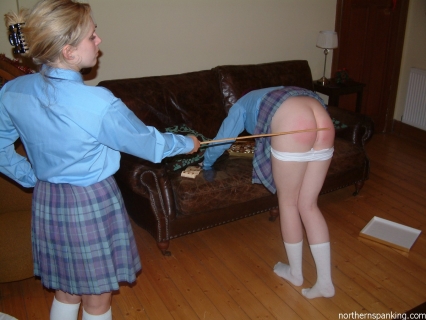 Anna's being eying that present under the tree for days. She knows what it is and she knows it's not for her, it's for Amy. And now, with an afternoon off school for Christmas shopping, Anna's chance has come! Perhaps if she unwraps it carefully, picks one or two choice choccies from the bottom layer and re-wraps it, Amy won't notice in the Christmas morning present-ripping frenzy? However, attending the same school, Amy also has the afternoon off, as Anna soon discovers...
Amy has been itching to punish Anna for positively ages and now she has her chance. Poor Anna doesn't get to keep her knickers on for long either. And as her present has been opened, Amy feels she should at least enjoy it, presenting a further opportunity to humiliate Anna! Having been fed chocolate, Amy feels suitably refreshed, (and malicious) enough to fetch the cane from the cupboard. Having felt it once or twice(!) and seen it used on Anna, now its Amy's turn to wield the rod. Poor Anna!
Determined to humiliate Anna, Amy applies the cane to her bare bottom as hard as she can, changing Anna's position to inflict even harder strokes. The final ignominy for Anna is being made to display her bottom while Amy taunts her with more chocolate consumption.
A warm welcome to our latest recruit, Scottish girl Anna Gordon making her debut as a spanking model with us.