Photos - All Creatures Great And Small
Added 5 Nov 2007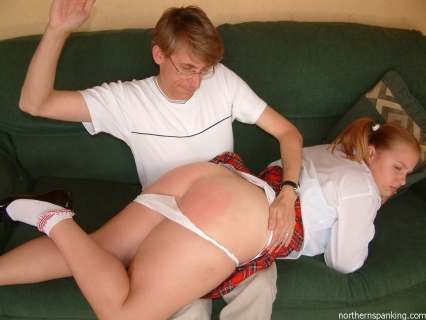 Each morning on her way to school, practical joker Kate sneaks into Mr Kennedy's garden and moves his gnomes around a bit. He's beginning to wonder if the gnomes have a life of their own until, on a rare day off, he gets up early with is camera to see if he can catch them at it. And he catches young Kate instead...
And now its not so funny, for Kate at least, as she finds herself over Mr Kennedy's lap, her little kilt pulled up and his hard hand raining smacks upon her knickered bum. Through the window she can see the gnomes; they seem to be smiling at her!
Knickers down and Kate's bottom bounces and reddens nicely as Mr Kennedy exacts his revenge. When he's done spanking Kate, he sends her to wash his gnomes and rearrange them neatly in order of tallness, something he's been meaning to do for weeks.