Photos - Cheers To The Teacher
Added 30 Nov 2007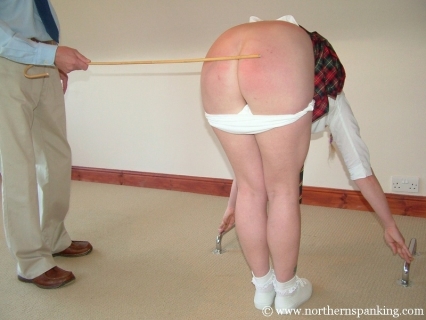 Dublin is caught drinking beer under the eaves of the schoolhouse and is hauled up to the classroom by a horrified Mr Stamp for instant retribution!
Not having consumed enough beer before being caught to numb the pain, Dublin feels every stroke Mr Stamp delivers to her tightly knickered bottom. And that thin protection is certain not to last for long. And there's worse to come; drinking alcohol on school premises is a serious offence and for serious offences, girls get the cane.
Bent double, her school knickers around her thighs, poor Dublin is most efficiently caned. So anxious is she to escape the punishment and so conscious of the pain in her striped bottom, Dublin forgets to pull her knickers up as she rushes from the class. Mr Stamp feels he deserves a reward and is not one to let good beer go to waste. Not even mediocre beer!