Photos - Traditional Scottish Discipline
Added 16 Oct 2007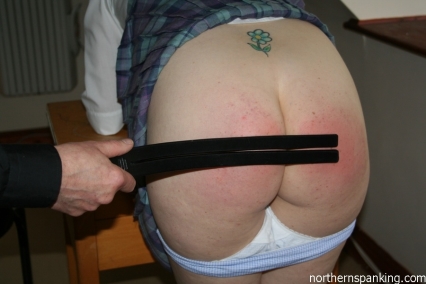 Jessica enters the class room, looking for the end of term test questions. She's timed it badly and Mr Stamp, returning early from lunch, catches her red handed. She never even found the tests, all she found was Mr Stamp's wicked strap.
That strap has kissed Jessica's naked bottom before and she's terrified of it but she's certainly earned herself a thrashing this time. Mr Stamp is really angry and tells Jessica she's in for a very painful lunch hour indeed.
Her prolonged punishment begins with Jessica across Mr Stamp's lap fora smacked bottom, protected only by her little cotton knickers.
Jessica has had many spankings from Mr Stamp and although they redden her bottom nicely, they seem to have little effect. Quite what is to be achieved by hurling his strap across the room is not known but, having been sent to fetch it, Jessica fully learns the meaning of "red handed".
Of all the punishments she's so richly deserved and suffered, Jessica has never had her hands strapped and, as Mr Stamp explains what is to happen to her, she tries to look nonchalant but Mr Stamp knows better. The sting of the strap on her palms makes Jessica unable to keep still. She is reminded of the importance of doing so by some sharp slaps to her bottom.
Cheating is one of the worst things to do in school and Mr Stamp is determined Jessica will never try it again. To this end, sore hands is not the end of her punishment as she is made to bend over, her kilt lifted over her back.
Punishment on the bare bottom is rare, among the other girls, but seems to be the norm for Jessica and the humiliation of having her knickers taken down is almost worse than the beating to follow.
What follows is a very severe strapping applied to Jessica's bare bottom. Repeatedly the hard leather strap bites into Jessica's soft buttocks, making her cry out.
She leaves tearful and cluthing her swollen bum but still seems defiant. Mr Stamp wonders if anything short of a caning will get through to this girl?