Photos - TV Repair Man
Added 25 May 2007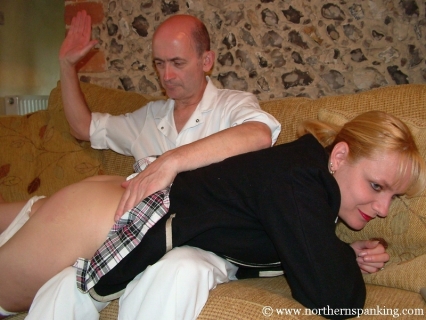 TV repair man Michael is confronted by a very sexy blonde schoolgirl when he arrives at his latest job.
"It just stopped working, Sir" is her only explanation and sure enough, there is no life in the set. Was that an innocent flash of her white knickers as Kara watches Michael intently from the sofa? "I didn't do anything, I promise" she says sweetly, bending to retrieve the remote control and thrusting her knickered bottom into Michael's face.
Michael's efforts at telly resurrection are meeting with little success but he is being distracted rather by the lovely Kara and what her hands are doing in the vicinity of her knickers! Deciding she is distracting him intentionally (and beginning to suspect something is not as it it seems), Michael observes that what Kara needs is a good spanking. And she CERTAINLY doesn't disagree as she throws herself eagerly over his lap!
All is not quite as it seems however as there occurs an unforseen interruption to normal programming...