Photos - Introducing Arella Bell 2/3
Added 31 Oct 2019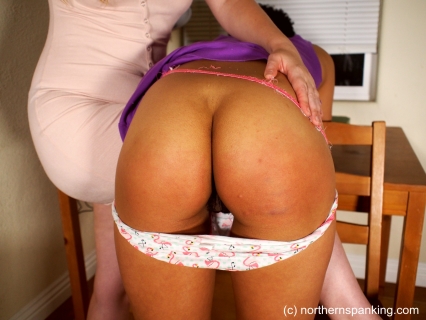 Meet yet another perfect cutie to make her first spanking site appearance with us: Arella Bell! Arella was introduced to us by our bff Maddy Marks and we could not pass up a chance to shoot with this adorable new model when she came to Los Angeles.
Arella is, of course, a sweetheart, but she has a mischevious and naughty streak and a lot of playful energy, which comes through in her films. We can't wait for you to see!
Today, let's take a peek at Arella as she gets her first spanking from Alex Reynolds: bent over the desk with her little skirt lifted and her cute panties on display, of course. But as previously mentioned, Arella is a naughty little thing-- it's going to have to be the hairbrush on her bare bottom, I'm afraid!
Welcome Arella! Watch this space for more fantastic first-timers soon. Afte rall, Northern Spanking is the site where your favorite spanking models begin.