Photos - Introducing Allyson Bettie 1/3
Added 20 Sep 2019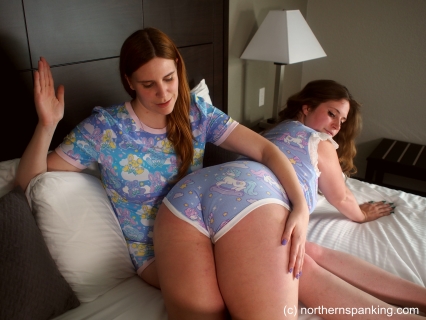 It's time to introduce you to another new model, and we have another absolute beauty who is making her first appearance on a spanking site for you to meet! Allyson Bettie is perfectly curvy with a delightfully round bottom that was just made for spanking. Combine this with her girl-next-door look and her adorably naughty personality, and you have the kind of girl you want to put across your knee again, and again, and again!
Ally and Alex look like a couple of sisters with their strawberry blonde hair and gorgeous bottoms, and in this photoset, they do exactly what a couple of mischevious sisters might get up to: they take turns putting one and other across their laps while wearing adorable printed onesies and the world's softest white cotton knickers. The two take turns giving out playful spankings and make sure that you get a good look at their reddened bottoms.
Oh, but Ally, be careful! Spankings will not always be so fun, as you will see before too long!