Photos - Introducing Ella Raine 1/3
Added 8 Jul 2019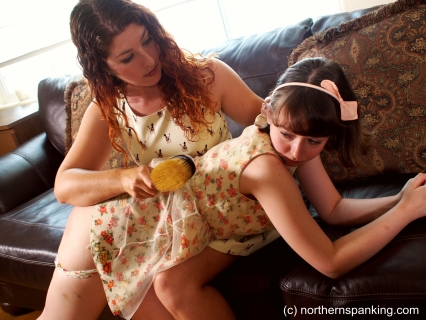 We have an exciting new model to introduce to you today! Meet brand new performer Ella Raine. We're so excited to have this adorable and talented young lady as part of our cast, and even more excited that we were the first company that Ella reached out to when she wanted to do her first professional shoot. We spent a full day shooting with this little cutie and filmed some exciting scenes with her, including several alongside one of our favorite local performers, Cherry Blossom. To add to the perfect mix, Maddy Marks came to give out spankings for a few scenes as well.
Ella was a dream to work with: she's genuinely into spanking and listed plenty of things that she wanted to try for the first time. She told us that she hoped to leave the shoot marked and sore, so we did our best to make that happen for her.
Today, let's take a look at some pictures to get ourselves ready to see Ella's first spanking video. Here, we see how perfectly innocent Ella is in her delicate little dress and her pooh bear panties...and how perfect she looks over Maddy's lap getting her round little bottom spanked with hand and hairbrush.
We're so happy to welcome this amazing newcomer! Stay tuned for some excellent scenes from her here and on our sister site, spankedanddiapered.com