Photos - Introducing Morrigan Lefey 1/2
Added 2 Jul 2019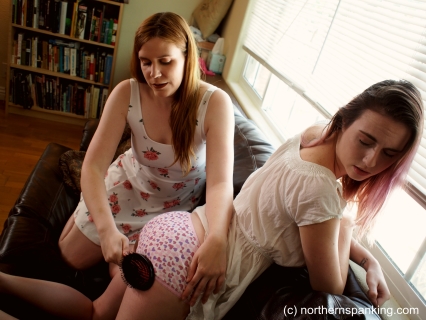 We're excited to introduce you to our newest spankee! Meet Morrigan LeFey, who is brand new to the spanking video world. We did her first spanking shoot and couldn't wait to introduce her to you-- Morrigan is sweet, spankable, and drop-dead gorgeous, so we're very glad to have her as one of our many local performers. This means we'll be doing lots more shoots with Morrigan in the future, so keep your eyes open for more from her.
Today, let's get to know this beauty by taking a look at her as she's dressed in a pretty white dress that doesn't hide her cute and colorful panties. Her dress is lifted and Alex expertly applies the hairbrush to her bottom, making sure that Morrigan won't forget the lesson she's being taught.
Welcome to the Northern Spanking family, Morrigan! We're so glad you're here!