Photos - Introducing Cleo Divine 1/3
Added 12 Jun 2019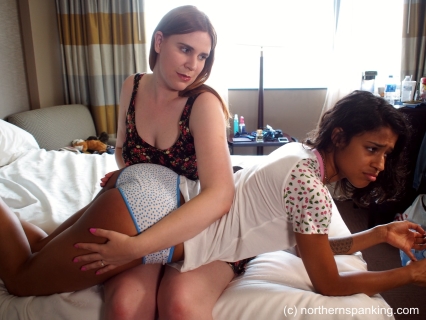 We have a second new-to-us face this month-- if you haven't already met Cleo Divine, you're in for a treat! We first worked with Cleo over a year ago and have had her back to shoot twice, but have so far only released films of her on our new sister site, spankedanddiapered.com . It's high time that Northern Spanking members got to enjoy this adorable girl, too!
Cleo is absolutely beautiful and has one of the nicest bottoms that we've ever seen. Perhaps even more wonderful, though, is how genuine her headspace is-- she truly embodies a naughty girl in trouble when she's getting scolded.
We've filmed some amazing videos with Cleo and we're so excited to show them to you! But first, let's take a look at some pictures of Cleo and Alex. Cleo is only wearing a little t-shirt and a pair of floral panties. Alex is feeling very strict and wielding her favorite implement: a long-handled vintage clothes brush. Cleo is spanked hard, both over the knee and while kneeling up on the bed and presenting her bottom.
Welcome, Cleo! We're so glad you're here!