Photos - Introducing Xena 1/2
Added 5 Mar 2019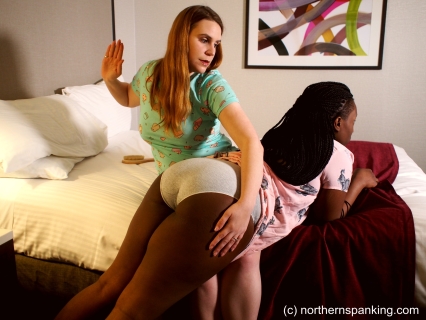 As the month of March comes to a close, it's time for us to introduce you to one more new model. This is someone that we've wanted to work with for a long time and are so happy we finally got a chance to: Xena.
Xena is the least new of the new performers that we're introducing this month. She's been seen extensively on our friends OKG Spanking Association's Clips Store . But this is Xena's first time appearing on a membership website, and she's still a very fresh face in the spanking scene, so we were very happy to use this chance to introduce her to all of you.
Nineteen-year-old Xena is a shy girl with a strong little side and a sweet as pie personality. We met her for the first time at a spanking party last May and knew right away that we wanted to shoot with her as soon as we got the chance. Everything about her is cute as can be. We were so happy that we finally were able to work with her last month.
Xena is no newbie to getting her perfect bottom spanked-- in fact, she's very passionate about spanking, and picked the hardest implement we had on hand when given the option to choose for her last scene of the day!
We'll be showing video of Xena to you all soon, but for now, take a look at these photos of her in an adorable little pink dress with kitties on it. How could Alex not put her across her lap and spank her with a stinging brush?
We hope you enjoyed meeting Lola, Iris, Suki, and Xena this month. We'll be returning to introducing you to one new-to-us spanking model each month, but will remain dedicated to finding and working with as many new performers as possible. It truly is an honor to us that more new models pick us to be their first shoot than any other website that we know of, and we work as hard as we can to make sure that each model's first shoot is carefully tailored to their needs, comfort levels, and desires. Nothing matters more to us than the happiness and wellbeing of the people that we work with, and we hope that shows in the quality of the finished product that we present to you.
Happy spring, friends!