Photos - Introducing Lola Belle 1/3
Added 5 Mar 2019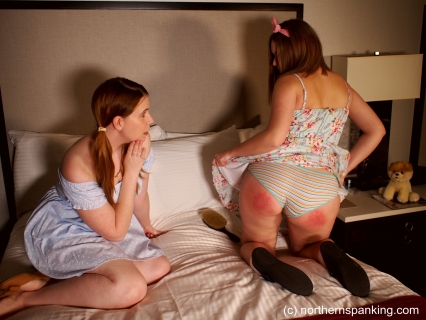 Spring is a time for all things new, and a time for new flowers to start blossoming. So we've decided to celebrate the slow but steady arrival of spring with something new ourselves: every Tuesday for the month of March will bring you the introduction of a brand new spanking model. All four of these beautiful new girls have never been seen on a spanking membership site before, and two have never been seen in videos of any sort at all. We always bring a fresh face to Northern Spanking each month, but this month we'll be doing that four times over!
Today, let's meet our first new girl for March: Lola Belle. We first met Lola some months ago, when Alex met her in a chat group organized by our friend Kiki Cali (someone who we really hope to be introducing our members to soon, by the way. We keep having near misses with our ability to work with that little cutiepie). It turned out that Lola was local to a city we were about to visit, and when Alex asked her if she'd like to do her first shoot for a production company she was very enthusiastic about the idea!
We'll have a video featuring lovely little Lola soon, but for today, let's take a look at some pictures of her and Alex at play. If Lola's bottom looks particularly red, it's with good reason: she had only ever been spanked on one occasion before this, and had never been spanked with an implement! It means so much to us when someone trusts us with a vulnerable first experience like this, and we're pleased to say that Lola definitely enjoyed it. She asked that each scene be harder than the one before.
Welcome newcomer Lola to Northern Spanking! And keep your eye open for new models every week this month! Happy spring!