Photos - Introducing Red August 1/2
Added 1 Jun 2019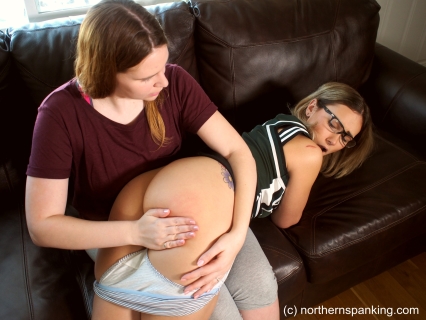 Sneaking in at the end of the month, meet our newest model: Red August! Red is a lifestyle spanko as well as an ABDL: look for films coming soon featuring this cutie on our sister site spankedanddiapered.com too! We had a wonderful time working with Red, who is a true switch and excels in both roles.
Today, let's get to know Red in our usual way: with a photoset. Red, a naughty cheerleader in a fantastic authentic uniform, goes over the knee of her older sister, Alex. It's hard to get away with anything at practice when your sister is the coach! To drive the lesson home, Alex gives Red some hard swats with a narrow wooden paddle.
We can't wait to show you more from Red!