Photos - Introducing Lizzy McAllister 1/3
Added 19 Jul 2018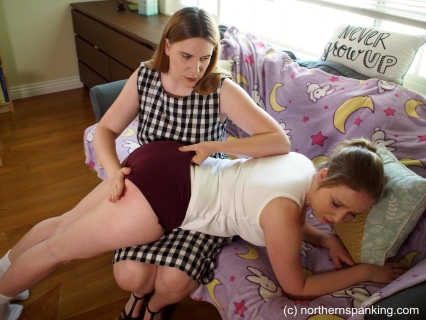 Lizzy McAllister is a very exciting new addition to Northern Spanking. We are always proud when brand new spanking models chose to make their debut to the spanking video world with us like Lizzy, and many other famous names in the industry did. But its even more special when someone recommends a friend. Maddy Marks (who is near and dear to our heart) introduced us to Lizzy: a girl who has been her close friend... well, forever!
Lizzie is sweet, adorable, kinky, and naturally spankable. Something about her natural, girl next door look makes us think that she just stepped out of the pages of a Blushes magazine. And that feeling is heightened when we see her in her introductory photoset, dressed in her vintage, burgundy PE knickers. Lizzie is made to put on her Punishment Outfit and then spanked over the knee with hand and a heavy, antique hairbrush by her strict mother, Alex Reynolds.
We are so excited to introduce you to Lizzie! Watch this space for more from her very soon!