Photos - Off-Court Discipline - April 1/3
Added 14 Jul 2017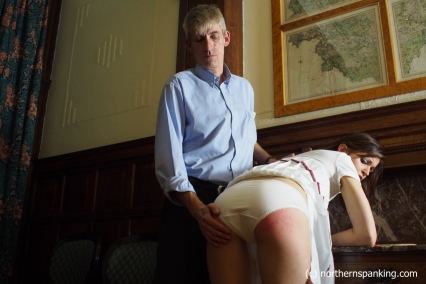 Its Wimbledon Championships time again, so here is a little photo-story with that in mind! There is a tennis-themed film to come next week also.
April is a promising young amateur tennis player with possibly a bright future ahead of her. IF she can control her temper on court. Her sponsor decides its time to intervene and summons April to see him at his house. Starkly informed of her options; a thorough spanking or the loss of her sponsorship, April has little option but to submit to a painful and humiliating punishment.
Worse, she is playing a match tomorrow and its very likely that, when her little skirt flies up as she is serving, that the crowd, the officials and the umpire she so terribly abused, will all see a sore red smacked bottom contrasting nicely with her little white knickers. Hopefully April has learned her lesson.