Photos - Introducing Daizy Cooper
Added 11 Jul 2017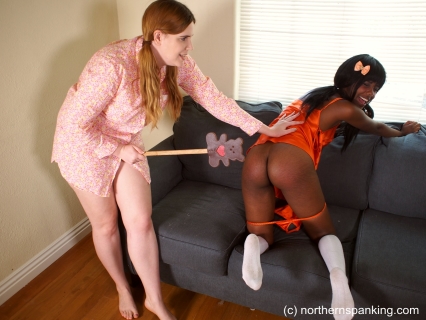 Meet Daizy Cooper, our newest spankee! Adorable Daizy was introduced to us by Dorothy. The two met in their vanilla lives, but when Daizy expressed an interest in both kink and modeling, Dorothy knew exactly who to get her in touch with. We are so glad she did! Nineteen year old Daizy is as adorable as a girl can be, and we all had lots of fun during her very first spanking shoot. Daizy was sweet, enthusiastic and cute as a button.
Check out her introductory photo set to get to know Daizy a little bit. She is having a sleepover with her friend, Alex, who recently found this bear shaped fly swatter for sale and bought it, but she had other ideas as to what it could swat. Alex is easily convinced to experiment with Daizy, and discovers that the cute little bear makes an excellent leather paddle for spanking her friend's adorable bottom!
Welcome to Northern Spanking, Daizy! We are glad to have you!