Photos - Introducing Apricot Pitts 1/2
Added 14 Jul 2017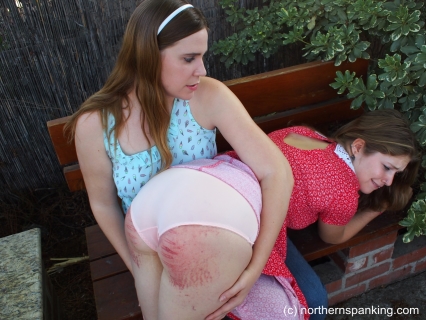 We are very excited to once again be introducing you to a brand new spankee. Meet Apricot Carson, a gorgeous young girl next door who came to us through a recommendation from her friend Harley Havik. We were thrilled to get the chance to be the first to spank her on camera, and we suspect you will be seeing a lot of Apricot in the spanking world in the future!
Today, Apricot has been left with her babysitter, Alex, who needs to keep an eye on her as she has been in an awful lot of trouble recently. It seems that having been caned at school, spanked at home and sporting a very marked bottom did not deter this naughty girl from continuing to get into mischief, as she snuck away from the homework she was supposed to be doing in order to play with bubbles in the yard.
Of course she was quickly caught and ended up once again getting her bottom smacked. Maybe she will learn someday!