Photos - Caned In The Grounds 1/4
Added 9 Jun 2015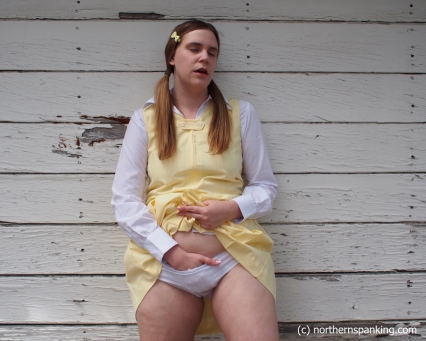 School policy explicitly states that students are not allowed to be unsupervised on the grounds during school hours. But Alex has a bad habit of excusing herself to go to the toilet and instead sneaking off into a secluded corner behind an outbuilding for some private time. She likes the fresh air and she very much likes having a chance to slip her hand into her cotton school knickers and play with herself. Today, she really needed a chance to release some tension as she sat in class.

While monitoring to make sure that no students were out-of-bounds, Mr Kennedy heard unusual noises coming from a far corner of the property and went to investigate. There, he found Alex leaned up against the building with her head thrown back as she moaned in pleasure. He was unimpressed with this behavior, which he thought entirely unsuitable for a girl from a school with such a good reputation!

Unfortunately for Alex, he was patrolling with his cane in hand and, since Alex felt that this spot was a private enough location to touch herself, he deemed it private enough to thrash her on the spot, giving her a hard caning before marching her back to school in disgrace.