Photos - Introducing Linny Lace 1/3
Added 27 Jun 2015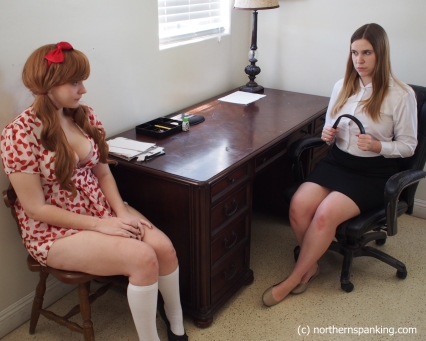 Once again, we have another brand new, gorgeous girl for you to meet! This time, its Linny Lace, whose adorable face and perfect, round bottom caught our attention, so we asked her if she would like to do her first ever spanking shoot with us. Linny is a lifestyle player, and she really enjoyed her first day of shooting. You will definitely be seeing more from her in the future!

In the meantime, we are welcoming her to the site with a quick peek at her having a very serious meeting with Miss Reynolds. Her office work has not been up to standard recently, so its time for a smacked bottom to remind her to pay attention to detail. Linny certainly looks adorable in her sweet dress and pigtails, but even the cutest girls have to be punished, and after her panties are pulled down and her bouncing bottom is spanked red, its time for a dose of the strap to round off the punishment. Linny is warned not to be back in the office again any time soon, but we all know she will be back before we know it!

We are delighted to add Linny to the cast of Northern Spanking and to continue our long tradition of debutente spankees!