Photos - Introducing Maddy Marks 1/3
Added 26 Sep 2015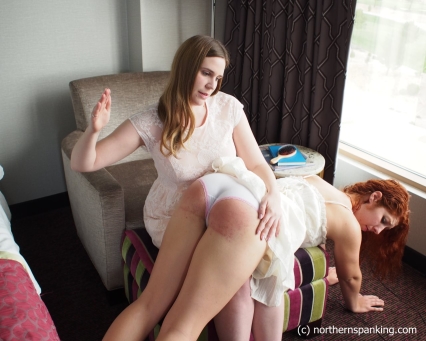 Today we introduce our latest new spankee to Northern Spanking, but its someone you have probably seen before: Maddy Marks! Maddy was actually one of the first girls that we filmed with upon moving our productions to America, although we are only introducing her for the first time now. She is also one of our closest personal friends, a wonderful model and very active in the LA fetish scene as an event organizer and bringer-together of kinky people. We are very glad to finally be sharing these scenes with you! Maddy has been modeling for several years now, and is a lifestyle player as well.

In this photoset Maddy is just trying to relax and read when her older sister, Alex, comes to have a talk with her. Maddy has been borrowing an awful lot of her things while they have been on vacation, including the book she is now reading! Instead of telling their parents, Alex decides to take things into her own capable hands. After all, as the elder sister, she is entitled to maintain a little discipline, isnt she? She puts her younger sister across her lap, lifting the hem of her flowing dress and smacking her bottom soundly across her white cotton knickers. Soon, Alex pulls these down in order to give Maddy a bare bottom punishment, and a hard dose of the wooden hairbrush. Poor Maddy! Hopefully the walls in the hotel are thick enough that no one else heard her whining and pleading as the hard brush made contact with her shapely bottom!

You can expect to see much more from Maddy Marks on Northern Spanking. Watch out for her debut film coming soon.