Photos - Introducing Dorothy 1/2
Added 25 May 2015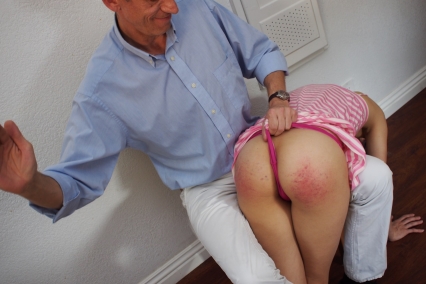 We have another brand new spanking model to introdue to you today! This is Dorothy Burnett in her very first spanking shoot. In fact, she got her first proper spanking on film for us. Dorothy is petite, adorable and very spunky. We will definitely be working with her more in future.
Today, Dorothy is a young girl who has had enough, packed up her suitcase and run away from home. She quickly finds that living on her own is a lot of hassle, though. She is eager to accept Mr Kennedy's rather forceful offer to help her out, and he leads... well, drags her back to his place.
When she gets there, though, she discovers that an object lesson in the dangers of being unsupervised awaits her, as Mr Kennedy turns her over his lap, pinning her legs in place so she has no chance of getting away while he smacks her bottom, hard. Dorothy isn't sure if this is a warning for what could happen, or what she was warned about, but she certainly learns a lesson about not running off, either way. It gets especially driven home when Mr Kennedy straps her tiny bottom harshly. Dorothy will be heading straight home and following her parents instructions from now on... that is, once her dress is untied from this chair!