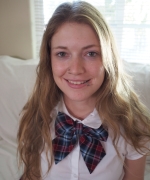 Northern Spanking is one of the longest established spanking and corporal punishment websites on the internet. We work tirelessly to bring viewers the greatest spanking films and images that we can, but we can't do it without the amazing performers that we feature.

We are always on the lookout for new performers, and are open to working with those of any level of experience. We welcome seasoned spanking models, those who have modeled in another genre but never been spanked on camera before and those with no on-camera experience whatsoever. In fact, many of the top spanking models in the industry today did their first spanking shoots with Northern Spanking!

What do we look for in a potential performer? First and foremost, we are seeking performers who love spanking, or are at least very curious to try it. We are looking for both spankees and spankers - those wishing to spank on camera should have off-camera experience giving spankings.

We require all performers to be comfortable showing their face on camera, as well as those who wish to film as a spankee to be willing to be spanked on the bare bottom.

Spankings are, of course, real! We are dedicated to working within your comfort zone and creating scenes that are suited to your needs and level of experience.

All performers must be 18 years of age or greater at the time that they first contact us. You must have photo ID to prove your age. We will not be able to work with any performer who appears at their shoot without their ID.

Since 2013, Northern Spanking is based in Los Angeles, California, and we do the majority of our shooting here. It is important to us to keep in touch with our roots in the UK, and we continue to shoot there whenever we can. We also travel throughout the US regularly and frequently shoot when we do so.
We provide the wardrobe for our shoots, so don't worry if you don't have the kinds of outfits that you see represented on the site!

All shoots are paid in cash, at rates based on the length of shoot and the number of scenes performed. Our rates are among the highest in this niche of the industry.

In some situations, travel expenses and meals are provided.

All shoots are a safe, relaxed environment where we have a lot of fun, and you get a chance to be creative! Many spanking models state that Northern Spanking is their favorite site to work for.

Please note that Northern Spanking is a site that only features content with female spankees. At present, we do not have any work available for male spankees.

Please contact alex@northernspanking.com to inquire about shooting with us. Please include your age, location and a photo showing your face.